60 Minute Marketing MBA
When discussing marketing it is important participants understand some fundamental ideas and terms. While consulting,  I've used terms like "axis of competition", "crossing a chasm" or "positioning the competition"  only to realize much later  that many people (technical and business) conjure up a meaning in their minds that is often fuzzy or off base.
I created this presentation and insist that I get an hour to present it  to participants in strategic planning sessions.  This insures we have a foundation of ideas and clarity of terms. It's been complemented as enlightening from people who thought these terms were colloquial or slang.
The Business Model Canvas
Your business model  on one page!  The Business Model Canvas, is a very useful but powerful strategic management and entrepreneurial tool. It allows you to describe, design, challenge, invent, and pivot your business model. It was invented by Alexander Osterwalder and Yves Pigneur in their book "Business Model Generation: A Handbook for Visionaries, Game Changers, and Challengers"
Here is a video description: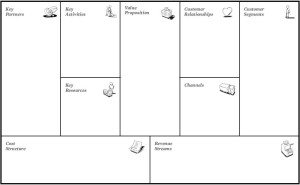 http://goo.gl/VJpHkv (courtesy of Strategyzer)
And a template:
 http://jeffteza.com/presentations/bizplancanvas/